Spirituality
5 Reasons Spiritual Seekers Celebrate This Festival
Faiths and cultures across the world offer festivities as an occasion or opportunity for people to come together in love, joy, celebration and spiritual knowledge. All the colors, food and rituals have deeper spiritual meaning for us to decode and learn from. One such festival which is celebrated the world over is the festival of Janmashtami. Here in this piece the Founder of The International Association For Human Values and a global voice for peace and diversity, Gurudev Sri Sri Ravi Shankar, beautifully unravels the deeper symbolism and essence of Janmashtami which is celebrated with great fervor and devotion.
"Janmashtmi – The Birth Of The Most Attractive
The celebration of Janmashtami commemorates the birth of the Lord Krishna in Hinduism. Known as Krishnashtami or Gokulashtami, the festival falls on Ashtami of Krishna Paksh that is the eighth day of a lunar fortnight. Ashtami, the half moon, is significant as it indicates a perfect balance between the seen and the unseen aspects of reality; the visible material world and the invisible spiritual realm It is believed that Lord Krishna was born to kill the wicked king Kansa and other demons, to free the earth from all sources of evil and to spread the message of brotherhood.
Janmashtami is celebrated with great reverence and obeisance to Lord Krishna who is worshiped on this day. Krishna's teachings are most relevant to our times in the sense that they neither let you get lost in material pursuits nor make you completely withdrawn. They rekindle your life; from being a burnt-out and stressed personality to a more centered and dynamic one. Krishna teaches us of devotion with skill. Often people with skill have no feeling or devotion and people with devotion and innocence seriously lack skill in action. Krishna's personality brings together these opposites of total devotion and skillful action. To celebrate Gokulashtami is to imbibe extremely opposite yet compatible qualities and manifest them in your own life.
Krishna is the Self of every being and when our true natural self shines through our personality, skills and abundance follow suit. As Krishna himself says in the Gita, he is the strength in the strong, the wisdom in the wise, the beauty in the beautiful and the dignity in the dignified.
Krishna simply means the most attractive. He is the Self of every being. He is the very life force in every living being. And Janmashtami is the day when you enliven that virat swaroop or the Great Form of Krishna in your own consciousness once again. Letting your true nature manifest in your day-to-day life is the real secret of Krishna's birth.
In the ancient text of Bhagwad Geeta, (one of the most authoritative philosophical texts on the journey from duality to Non-Duality) Krishna tells Arjuna, "You are very dear to me." Then Krishna tells Arjuna he must surrender. Surrender begins with an assumption. First you must assume. You assume you are the most beloved of the Divine, and then surrender happens. Surrender is not an action; it is an assumption. Non-surrender is ignorance. Non-surrender is an illusion. Surrender has to begin as an assumption and then it reveals itself as a reality. Finally, it reveals itself as an illusion. An illusion because there is no two, no duality. There is no independent existence of anyone. An individual has no independent existence.
So, in the Gita, Krishna says, "He is dear to Me who neither goes on thanking people nor hates anyone." Thanking and feeling obliged indicates that you believe in someone else's existence rather than in the Divine who is ruling everything. When you feel obliged, then you are not honoring the principles of karma or the divine plan. Appreciate people for what they are, do not thank them for what they do. Otherwise your thankfulness is centered around ego. You are grateful, but not for an act. You are grateful for what is. As every individual is nothing but a puppet of the ONE, thanking and being obliged is simply an exhibition of ignorance. Everything is ruled, controlled and managed by one Divinity, that consciousness has to shine forth in every act of yours; you do not have to make a mood of it.
Hence the most authentic way of celebrating Janamashtami is knowing that you have to play a dual role — of being a responsible human being on the planet and at the same time to realize that you are above all events, the untouched Brahman. Imbibing a bit of avadhoot and a bit of activism in your life is the real significance of celebrating Janmashtami. Awaken the Krishna in your consciousness – " Krishna is not far from me, not separate from me, he is within me'- this feeling will fill your life with Krishna. "
About The Author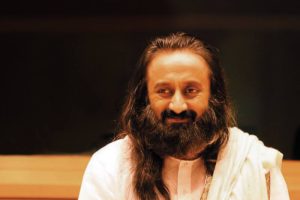 Gurudev Sri Sri Ravi Shankar is an international humanitarian leader and a spiritual master who is the global rallying voice of this generation's collective call for peace.
Named one of the "Seven Most Powerful People in India," by Forbes, his world-renowned meditation techniques helped end the 60-year conflict in Colombia. He has been credited with bringing opposing parties together to facilitate meditation and peace talks in Iraq, Cote d'Ivoire and India.
Founder of the Art of Living Foundation and International Association for Human Values, Sri Sri is leading the way toward peace and tolerance through meditation and humanitarian efforts. Over 35 years, his programs and initiatives have touched the lives of over 370 million people in over 150 countries.
"Sudarshan Kriya," the meditation technique introduced by Sri Sri is backed by research and implemented in schools, corporations, prisons, refugee camps and retreat centers around the world. As a spiritual teacher, Sri Sri rekindled traditions of yoga and meditation that have helped millions of people achieve personal and social transformation by relieving stress and discovering inner peace in daily life.