Sometimes we have tried everything to save a relationship from 'going south'. And yet, we find ourselves not entirely succeeding in our efforts. At this point, when our relationships are almost on the ventilator, a little spiritual wisdom can help you bring it back from the brink. These wisdom notes or aphorisms from Gurudev Sri Sri Ravi Shankar, global voice for peace and diversity, a highly revered spiritual teacher, humanitarian and the Founder of the International Association For Human Values - are eternal and yet remarkably applicable to equivalencies we share in our modern relationships. These Sutras give us a fresh way of looking at our relationships and if we make small shifts based on a self-evaluation of this checklist, we can save  a lot of heartache and misunderstanding.
1.Don't ask for proof
Gurudev says, "Dont ask for proof. Take it for granted that the other person loves you. If you feel that your partner or spouse does not love you as much as before or their attention has reduced, you should ask them, 'Why do you love me so much?'Demand destroys love. Even if the love has dried up inside them, it will be rekindled. They will see your magnanimity, your understanding and will start loving you more."
2.Do not forget the power of love
"You can win over everyone and every situation with love." he shares, "There is nothing in this world and in your life that you cannot win or overcome with love."
3.Understand lies
"Whenever someone close to you tells you a lie," according to Gurudev, "it is just because love wins over truth. If truth wins, it is afraid of losing love. So the reason why a person tells a lie is because they do not want to lose the love of the other person."
4.Hurt causes hurt
"When someone says something hurtful or mistreat you, they do it out of stress and ignorance. They are hurt somewhere within and that is why they behave like that."
5.How we handle our mind decides the nature of our relationships
"The key to a happy relationship is based on how we handle our own mind. This is why we all must regularly practice our sadhana or spiritual practice. We must learn how to calm our mind and relax, for a few moments every day. If each one of us can manage to broaden our vision just a little bit, I tell you, we can all bring such a great transformation in our lives. We will become happy and also bring happiness to the lives of others around us."
6."When love turns into bitterness, Just wait, don't react, the bitterness will turn back into love again
You often see that the people for whom you have done so much, they turn bitter! And you expect everyone to be in an enlightened state, that is not possible in the world. Everyone is not just going to be smiling and accepting you as you are, and unconditionally being in a giving and loving space. That is not possible. You will have to face reactions, and you should face it, that is all."
7.Don't police the person you love a lot
Give the person whom you love their freedom; their space. When you love somebody, you almost want to strangle them. You want to police them from morning till night. It may sound very difficult to not do this, but that is the wisest thing to do.
8.Too much expression?
"If you express your love too much, the person who is receiving it doesn't know how to respond. Just imagine yourself in that place, if someone gives you too much love, you will feel like running away. You don't know how to respond, unless and until you are so centered and you have one-pointed love towards the Divinity."
About The Author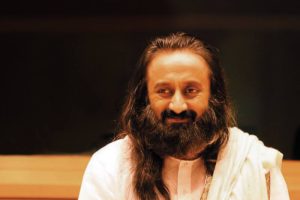 His Holiness Sri Sri Ravi Shankar is an international humanitarian leader and a spiritual master who is the global rallying voice of this generation's collective call for peace.
Named one of the "Seven Most Powerful People in India," by Forbes, his world-renowned meditation techniques helped end the 60-year conflict in Colombia. He has been credited with bringing opposing parties together to facilitate meditation and peace talks in Iraq, Cote d'Ivoire and India.
Founder of the Art of Living Foundation and International Association for Human Values, Sri Sri is leading the way toward peace and tolerance through meditation and humanitarian efforts. Over 35 years, his programs and initiatives have touched the lives of over 370 million people in over 150 countries.
"Sudarshan Kriya," the meditation technique introduced by Sri Sri is backed by research and implemented in schools, corporations, prisons, refugee camps and retreat centers around the world. As a spiritual teacher, Sri Sri has rekindled traditions of yoga and meditation that have helped millions of people achieve personal and social transformation by relieving stress and discovering inner peace in daily life.