Lifestyle
Mother's Day Special: Six Super Gifts That We Thing Your Mom Would Love
"Motherhood is to want the best for others and not expect anything in return. There is motherhood in each and every one of us."- Gurudev Sri Sri Ravi Shankar, Global humanitarian and founder of The International Association For Human Values.
For her unconditional love, for the freckles and wrinkles that are a result of her endless concerns about her children's health, well-being and future, for the pillar of strength that a mother is, even if her own back may be hurting from playing all corners at home, workplace, family, friends, business, relationships, partnerships, as if it were a ping pong match with oneself, she cannot be truly acknowledged enough in any form of expression.
But a small gesture by way of a thoughtfully picked out gift along with her favorite flowers and a hand written note will surely go some way in letting her know that she is loved immensely. So here we have curated with as much thoughtfulness, if not more, a Mother's Day Special from the house of Shankara, where the products have been been selected keeping your Mom's holistic well-being in mind.
1. Aromatherapy
Shankara's Aromatherapy Collection
After a long hard day at work and raising kids and doing all of it without complaining, a soothing and invigorating aromatherapy is a gift your Mama deserves. Who would not like a unique collection of Ayurveda inspired breathtaking aromatherapy oils to balance mind and emotions throughout one's daily activity?
Shankara's Aromatherapy collection balances all the three doshas and brings together the following formulations of essential oils:
Shankara's Aromatherapy Collection
Grounding and Centering: Essential oils from Cardamom, Sandalwood EO, and Vetiver
Cooling and Soothing: Essential oils from Sandalwood, Lavender, Geranium
Stimulating and Invigorating: EO from Lemon, Bergamot, Cypress and Grapefruit.
2. Some pampering for her feet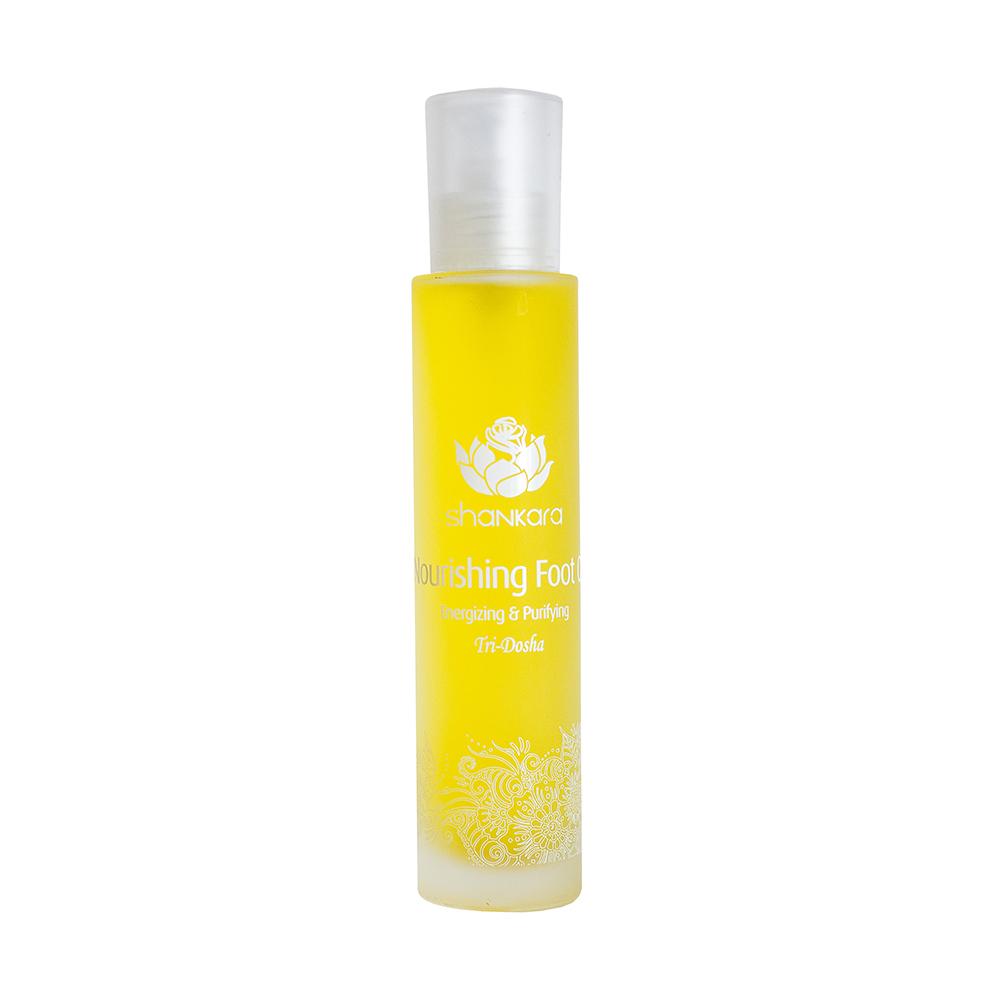 Shankara's Nourishing Foot Oil
Sure you care for your mother but nothing says you pay attention to detail like bringing home something that beautifies, moisturizes, relaxes and gives comfort to her ever tired feet at the end of a long day. Ayurveda experts recommend a 15 to 20-minute head and foot message before dinner. The massage will relax her body, remove the fatigue and stress that hinders good quality sleep and will prepare her for an undisturbed 8 hours of sleep. Shankara's Nourishing Foot Oil has essential oils and extracts of calming herbs. It is rich with the essence of sunflower, jojoba, grapeseed, lemon basil, dashmoola, neem, cardamom, camphor, lemongrass, manjistha, lavender, ginger, olive leaves and Ashwagandha.
3. Anti-Age Serum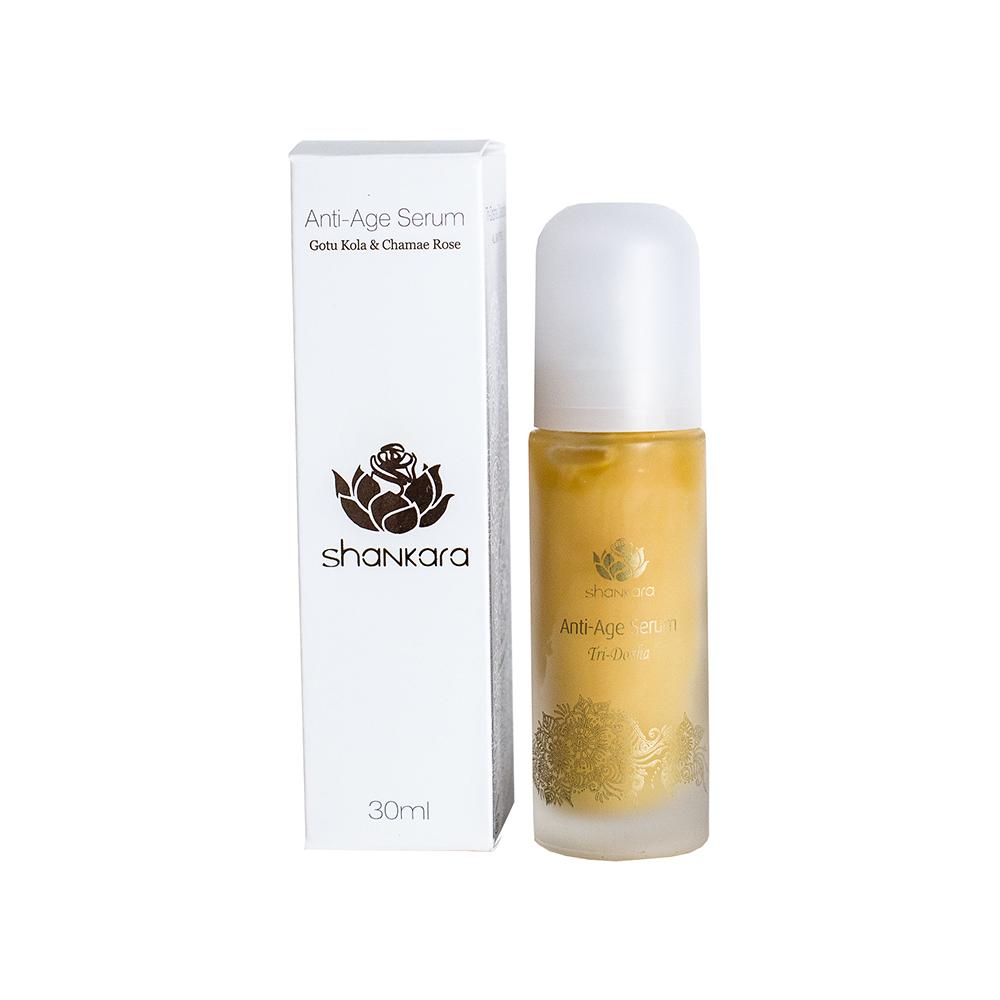 Shankara's Anti Age Serum
The fine lines and wrinkles that have ordained your mom's face over the years, do not have to stay. Shankara's Anti-age Serum is a 100% active serum that combines gotu kola and chamae rose to deeply moisturize and rejuvenate your skin. Watch fine lines and wrinkles just fade away while the skin appears brighter and healthier.  It supports natural renewal of the skin, while deeply hydrating and oxygenating it.
4. Fine Line Treatment Oil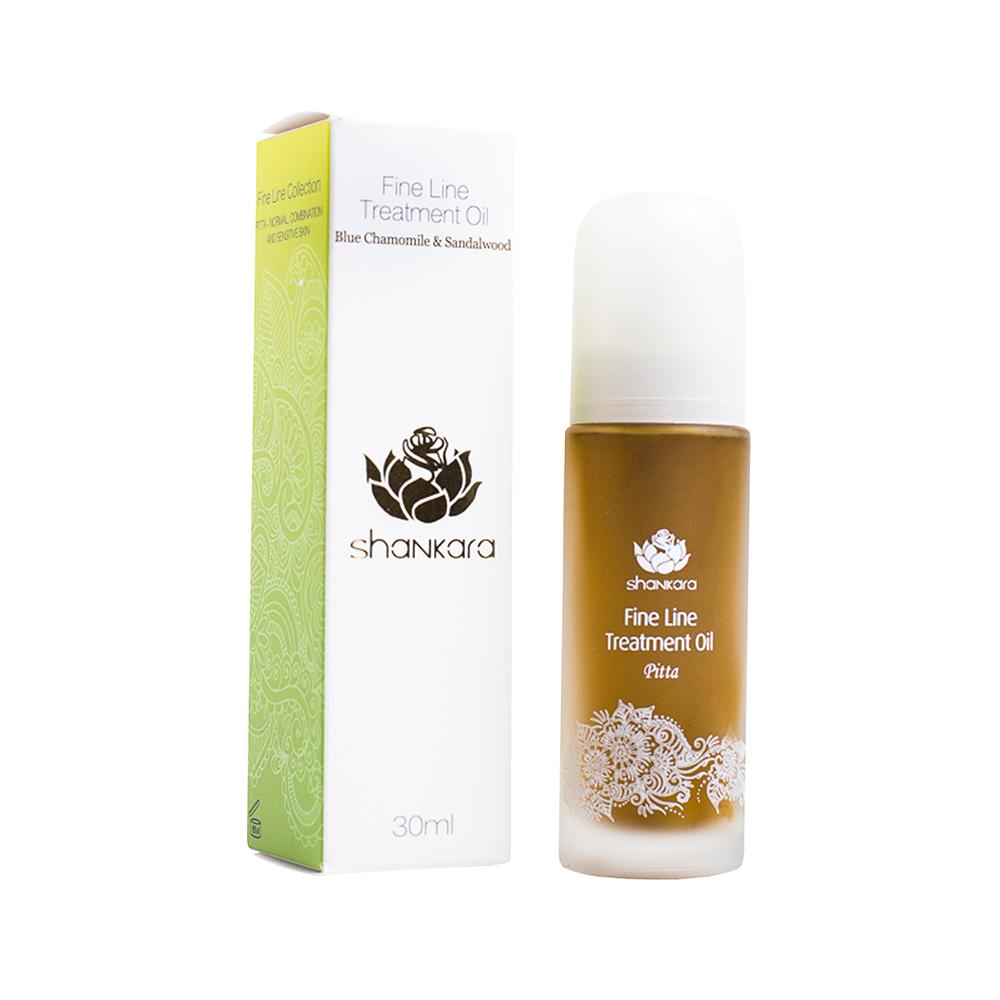 Shankara's Fine Line Face Oil
Stress? It shows up on the face. Fatigue? It shows up on the face. Premature signs of aging due to stress? Again, shows up on the face. What a fine gift it would be to have something that can make all of these lines and patches go away, to reveal the beauty underneath! Say goodbye to the facial fine lines with this 100% pure unique oil blend from the house of Shankara that is Shankara Fine Line Treatment Oil. This treatment oil goes deep into the skin to calm, protect, and rejuvenate while maintaining balance in the T-Zone area for skin that looks healthy and radiant. Made from extracts of almonds, jojoba, sunflower aloe vera, evening primrose, sandalwood, borage, grapeseed, calendula, turmeric, licorice, shavegrass, elemi, chamomile, mimosa among others, it is rich in nutrients and antioxidants that cool off the skin's irritants, cleanses and balances sebum slightly sebum, restoring and maintaining the skin's natural balance. It is a non-comedogenic product.
5. Anti-age eye cream
When it comes to using eye creams, make sure you pick one for your Mom that is natural, has regenerative qualities and helps fight the tiredness and rapid aging of the skin cells around the eye region. Very often when the eyes are constantly exposed to screen or the sun outside without sufficient rest and care, they end up looking haggard and the skin around the eyes and over them appears aged and rough.  A brand that comes highly regarded for its line of natural products that combine the best of oriental and occidental systems of healing and wellness in eye care is Shankara.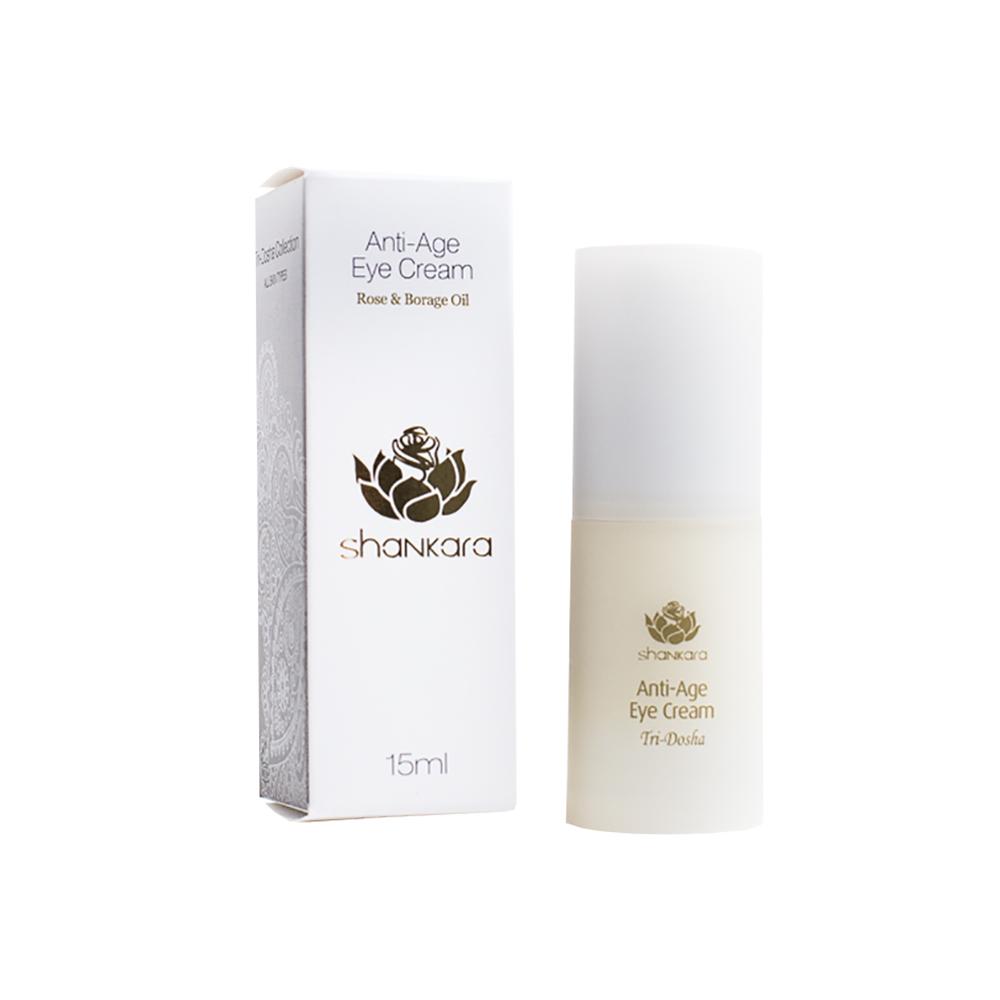 Shankara's Anti-age Eye Cream
Shankara's Anti-age Eye Cream, helps you look younger with a significant reduction in the appearance of fine lines and dark circles. The calming cream gently nourishes the delicate skin around the eyes, restoring your youthful appearance. Rich with the goodness of antioxidants and ingredients like Rose distillate, raw shea butter, grapeseed oil, andiroba oil, rosehip seed oil, hazelnut oil, Jojoba oil, microalgae extract, castor oil, aspen bark extract, cucumber extract, squalane (Olive-derived), foraha oil, Carrot seed extract oil, pomegranate seed oil; borage oil, Kukui nut oil and raspberry seed oil, protein and soy extract among others; nutrients and antioxidants, the cream has been found to be deeply hydrating and moisturizing.
6. Panchakarma-an Ayurvedic overhaul
In taking care of the family's needs, moms often leave behind a crucial activity-refueling in the form of self-care. It is time to remind her, that as much as her family and company needs her, it is not selfish to give oneself some solo time off on a day to day basis, engage in some self-pampering, take care of the body and mind. Meditate for a few minutes. Take a week off for an Ayurvedic spa massage and wellness retreat far away in the mountains.
A quiet and heavenly place for the finest Ayurvedic spa and massage treatments that few people know about is the Art of Living Retreat Center, nestled at the top of Blue Ridge mountains in Boone, North Carolina. The center has all the ingredients-spa retreats, Panchakarma, finger licking delicious fare, Yoga and Ayurvedic Dosha balancing treatments with the idyllic views of the hills-that go into making a perfectly relaxed and rejuvenating vacation with quality soul-time. Here's where you can check in with your loved ones for some well-deserved self-care.
The talented team of professionals there is committed to the practice. The team immerses itself in the dual traditions of Ayurveda and Yoga, not just as professionals, but as a powerful way of life. It has been ranked the #1 Ayurveda program in the US by Organic Spa Magazine and USA Today, for being one of the very few centers exclusively dedicated to offering Ayurveda focused wellness treatments in the US.
7. The Gift of Abhyanga
So you have seen your Mom go through periods of stress, poor sleep, worrying often about issues at home or work, with her face developing freckles over time, and you have stood there helpless, not knowing how to undo all of this.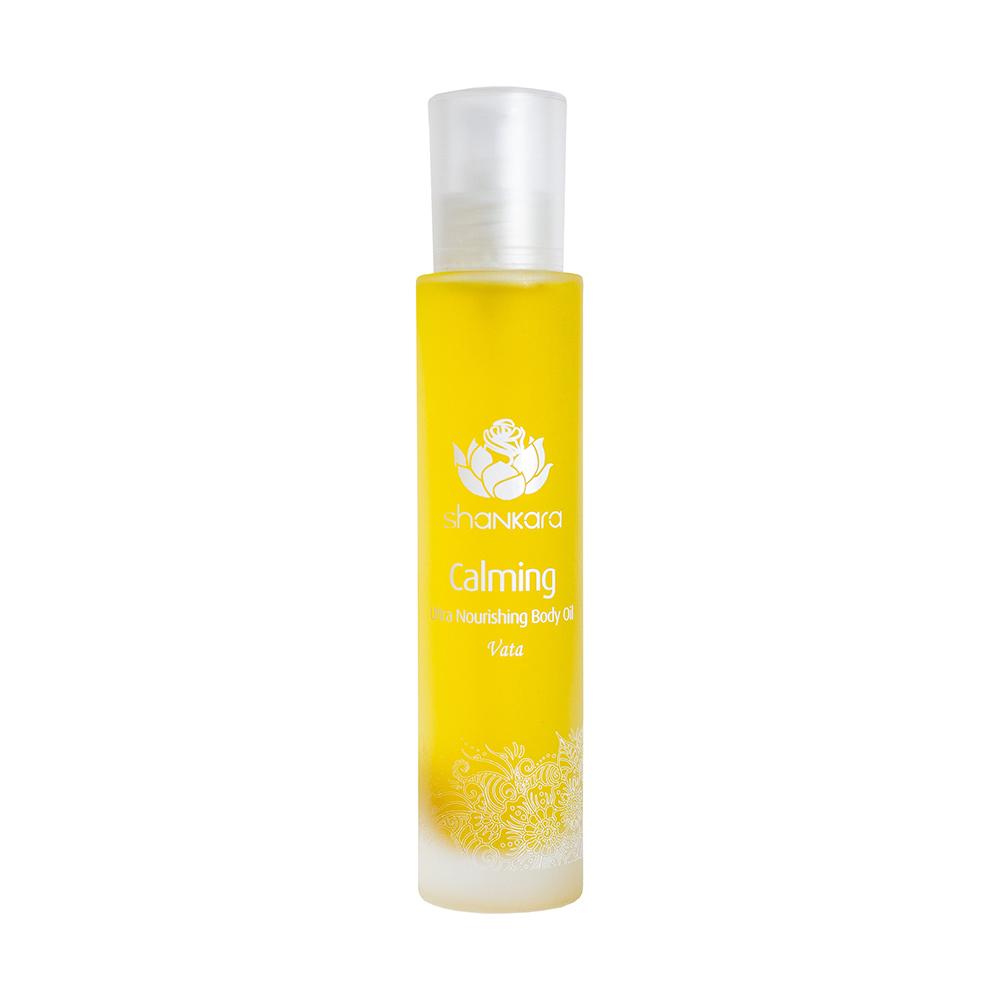 Shankara's Calming Body Oil
In Ayurveda, this restlessness and sleeplessness is attributed to Vata imbalance and further Vata imbalance can lead to Insomnia and other sleeping disorders, according to experts. Ayurvedic experts recommend full body massage with essential oils that are slightly heavy structured and balance the Vata like sesame oil, avocado oil, Clary Sage (used in aromatherapy, works on the hypothalamus, brain's primitive part and relieves anxiety, fear and stress). Instead of looking for oils that suit your mom's skin and ones that don't, and going through the pain of looking for pure extracts in the market, you can simply pick out the carefully crafted EO blends like Shankara's Calming Body Oil from the Sleep Collection.