Lifestyle
Did You Know Of These 5 Crystals That Can Bring a Miraculous Glow To Your Skin?
Crystals and gemstones have been believed to have healing powers of their own in many cultures. But now they have made inroads in our beauty regimes as well and all for good reason. Mineral crystals or micro-crystals are rich in beauty augmenting and detoxifying properties. What are these crystals and how do they really benefit your skin?
1. Aquamarine
This particular one is known for strengthening your endocrine system. The stone has been associated with rituals of purification in ancient cultures. It is also known to help reduce skin conditions like eczema, hives, rashes, rosacea and psoriasis. The stone is also known to be very calming for the body.
2. Jade rollers
Another rage that is catching up with beauty and cosmetic aficionados is the jade roller. It is a powerful stone that augments the elastin and collagen fibres in the skin, that are responsible for maintaining the skin's elasticity and texture, thereby reducing he natural aging effects of the skin. It improves immunity of skin cells while supporting the regrowth of new skin cells. Jade rollers have one simple function- to improve circulation of blood. It also reduces puffiness of the skin while improving lymphatic system. Because of the natural resistance presented by the jade stone, it is used for contouring practices on the skin. It has for a long time been a part of Chinese beauty care routine.
3. Red jasper
This is known as the stone of the goddesses and a symbol of boldness. Spiritually speaking, it is known to balance the yin and yang energies in an individual. Jasper is known to be beneficial in treating skin pigmentation.
4 Onyx
This is a sought after crystal for healing skin and hair problems including, rosacea and skin allergies. It also has anti-inflammatory properties to fight skin inflammations, infections, redness and itchiness.
5. Rose quartz
This is known as an excellent skin exfoliating agent. It is used to slough away dead cells, dirt and excessive oil from the skin cells. Facial rollers made from this stone are highly useful in improving blood circulation in the body, improving skin tone, improving skin's elasticity, make lymphatic drainage more effective, and reduce puffiness, wrinkles and tighten skin pores as well as reduce dark spots.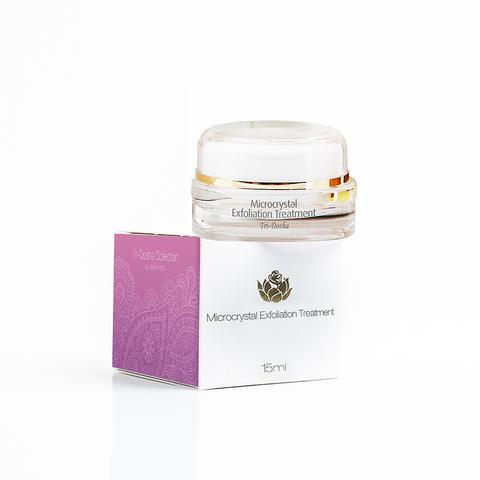 Shankara's Microcrystal Exfoliation Treatment
But what are the reliable natural beauty products that use microcrystals or fulvic minerals that are safe for your skin and that give your skin the inclusive boost of all the benefits above and more? One that we have on our mind is Shankara's Microcrystal Exfoliation Treatment.
Uncover beautiful, radiant skin with this exceptional exfoliation treatment. Ultra-fine silica crystals combine with aloe gel and five algae extracts to gently sluff away dry, dead cells revealing a healthy, youthful glow that is tangiblysoft.
Soothes, protects new skin
Gentle, non-damaging to capillaries and pores
Professional quality results
Refines texture and promotes younger looking skin
Disclaimer: The conditions and illnesses could also be due to a mix of Dosha imbalances. Please do not try to self-diagnose. This article is purely for informational purpose. We strongly recommend you consult a Sri Sri Ayurveda physician for a thorough examination of your constitution and its balances/imbalances.