Lifestyle
7 Ways Ayurveda Can Keep You Warm This Winter
It is that time of the year when no amount of coffee and blankets seem to suffice. If you are on the East coast, you know what we are talking about. Sub zero temperatures, snow laden roads, antibiotics and endless layers...yet, infections, cold and occasional fever sneak into our bodies during these winters, as our immunity stands compromised under the harsh, dry cold weather. What if we tell you, Ayurveda has secrets to keeping you warm, healthy and safe this winter! 
1. Have ginger 
Warming spices like ginger, cinnamon, cayenne, nutmeg, turmeric or cloves help your body stay warm, clears up sore throats and helps digestion.  2. Avoid raw foodsDuring winter, which is a Vata season, the digestive fire is strong and so our body can easily process foods with some fat too. In fact, it is recommended during the winter season to have some fatty foods that can be insulating for the body but it is best to avoid raw salads in winters. 
2. Ghee or clarified butter is fine! 
One of the best sources of healthy fats when had in regulated amounts is the Ghee or clarified butter. A lot of people have started using clarified butter in their meals every day after learning about the immense nutritional and skin benefits of this healthy fat.• Ghee is an excellent agent for absorbing fat soluble vitamins like A, D,E and K
• Most of the skin problems and dullness of the skin occur due to a poor digestive system and accumulation of toxins. Clarified butter is highly recommended in detoxifying diets in Ayurveda as it clears up toxins in the body while improving one's digestion
.• Also the presence of omega 3 fatty acids in clarified butter helps fight skin dryness.
• Ghee provides hydrating to your skin, keeping it soft and supple.
3. Oil Massage
The best way to fight the scaly dry skin problems during winter is to take refuge in the bliss of Ayurvedic oil massages or Abhyanga, suited to your Dosha constitution. Oil is widely recommended as a healing, detoxifying, hydrating and re-balancing agent in Ayurveda. Ayurvedic massage as part of the Panchakarma treatment helps the oil penetrate the skin, presses into tissues and releases toxins like lactic acid and trapped oils and chemicals that may have seeped in.
4. Sesame Oil to your rescue 
During winters, people use sesame oil as the basic ingredient for Ayurvedic formulations. Sesame, the king of oils is excellent for those aged, or people with Vata afflictions and this particular season of windy cold days.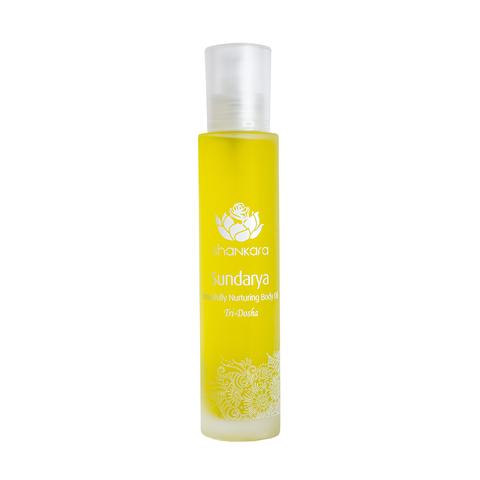 Shankara's Sundarya Oil
Shankara's Sundarya Oil is a winter special body oil that brings with it the vast benefits of winter oleation, exclusively prepared from the richness of sesame oil, sunflower oleic oil, hempseed oil, aloe vera oil, essential oils made from Rose-Geranium leaf, vetiver, sandalwood, ylang ylang, jasmine and vanilla.
• The body oil has a nurturing effect on the body
• Luxurious floral essential oils to awaken your inner and outer beauty• Sensuous and uplifting, leaves skin feeling supple-just what you need to get you through the winter
• Can be used as moisturizer, massage oil and bath oil
• Rich in nutrients and antioxidants. Strengthens and lubricates the joints and muscles
5. Exercise and Yoga
It is harder to commit to a work out during lazy winter months but exercise is a must during winters to beat the Kapha. To prime your body for winter health, inverted poses increase circulation of lymph that moves through the body picking up bacteria and viruses and filtering them out via the lymph nodes. A decent set of 3 of Sun-Salutation can do wonders. 
6. Where can you go for an elaborate Ayurveda inspired winter break?
If you are someone who is always looking out for a kick-your-boots-up relaxing spa vacation, replete with good food, great detoxes and treatments like Abhyanga, full body oil baths, herbal wraps administered by highly skilled therapists and doctors for an internal and external overhaul of your system in the midst of nature, head over to The Art of Living International Retreat Center, state-of-the-art wellness center nestled on the lap of Blue Ridge Mountains, Boone, North Carolina that promises an immersive spiritual and physically invigorating journey. For more information on the Panchakarma Retreat this November, go here!