Lifestyle
5 Gifts To Make Up For Missing Valentine's Day With The Love Of Your Life
So you are late by a day. May be you were both traveling, or may be work kept you on your toes. There is nothing sweeter than buying your partner a meaningful gift a day later, to make up for your absence on the Valentine's Day, and some gifts are well worth the wait! Here's a list of five that will let them know you care just as much and rekindle love, even a day later.
1. Aromatherapy
A soothing and sensually invigorating aromatherapy is a gift your better half deserves. Who would not like a unique collection of Ayurveda inspired breathtaking aromatherapy oils to balance mind and emotions throughout one's daily activity? For example, Shankara's Aromatherapy collection balances all the three doshas and brings together the following formulations of essential oils:
Grounding and Centering: Essential oils from Cardamom, Sandalwood EO, and Vetiver
Cooling and Soothing: Essential oils from Sandalwood, Lavender, Geranium
Stimulating and Invigorating: EO from Lemon, Bergamot, Cypress and Grapefruit.
2. The Gift of Abhyanga
So you have observed your partner undergoing a stressful time at work, sleeping odd hours, to the extent of showing signs of Insomnia. Insomnia is caused by prolonged Vata imbalance or an aggravated Vata dosha, owing to irregular sleep pattern, poor dietary habits, stressful worklife and lack of a disciplined routine. Ayurvedic experts recommend full body massage with essential oils that are slightly heavy structured and balance the Vata like sesame oil, avocado oil, Clary Sage (used in aromatherapy, works on the hypothalamus, brain's primitive part and relieves anxiety, fear and stress). Instead of looking for oils that suit your skin and ones that don't, and going through the pain of looking for pure extracts in the market, you can simply pick out the carefully crafted EO blends like Shankara's Calming Body Oil from the Sleep Collection.
3. Some pampering for their feet
Sure you care for your partner but nothing says you pay attention to detail like bringing home something that beautifies, moisturizes, relaxes and gives comfort to their feet at the end of a long day. Ayurveda experts recommend a 15 to 20-minute head and foot message before dinner. The massage will relax your body, remove the fatigue and stress that hinders good quality sleep and prepares the body for an undisturbed 8 hours of sleep. Shankara's Nourishing Foot Oil has essential oils and extracts of calming herbs. It is rich with the essence of sunflower, jojoba, grapeseed, lemon basil, dashmoola, neem, cardamom, camphor, lemongrass, manjistha, lavender, ginger, olive leaves and Ashwagandha.
4. Not Your Regular EO
When we like the idea of using a pure and herbal essential oil, lot of us wonder, how can we have the benefits of all these essential oils within an ideal blend? How much should the quantities be? Should we blend two of them or three of them and what is the procedure to extract them? There are so many Eos out there in the market. How do we know which one suits our skin and what need do they serve? RELAX!
These essential oils need to be carefully picked for their properties to give off pleasant and long lasting fragrance.  Leave it to the professionals at Shankara to craft the perfect and most harmonic EO blends for your skin and body type, bringing the best of Ayurvedic wisdom from the east and the knowledge of natural actives in the west. Made into perfection, so when the oil drips on your skin, and you rub it evenly, gradually and lovingly, you can feel the goodness of all these essences seep into your body tissues, making you relaxed, hydrated as the aromatic richness wafts through the space you walk in. Feel the stress dissolve away!  
For example, Shankara's Harmonizing Oil, made exclusively from Asian herbal oils using sesame oil, grapeseed oil, essential oils of jojoba, squalane (Olive-derived), hazelnut, aloe vera, borage oil, castor oil, evening primrose oil, valerian extract, extracts of dandelion, black cohosh, wild yam, lavender (which inhibits the growth of odor causing bacteria), shatavari, raspberry leaf among other nourishing essences, this body oil is uplifting, dosha balancing, emotionally calming, warm and nurturing for the skin. It also contains coconut oil that is rich in lauric acid, which eliminates bacteria from the sweat prone regions of the body.
5. Natural aluminum free deodorants
The jury is out on how potentially harmful commonly available deodorants are for our bodies in the long run. For example, most of them contain aluminum and paraben that mimic a female hormone estrogen acting on the breast tissues. So people with family history of breast cancer are generally advised against using fragrances that have these chemicals. Also people with kidney problem should ideally avoid deodorants with aluminum.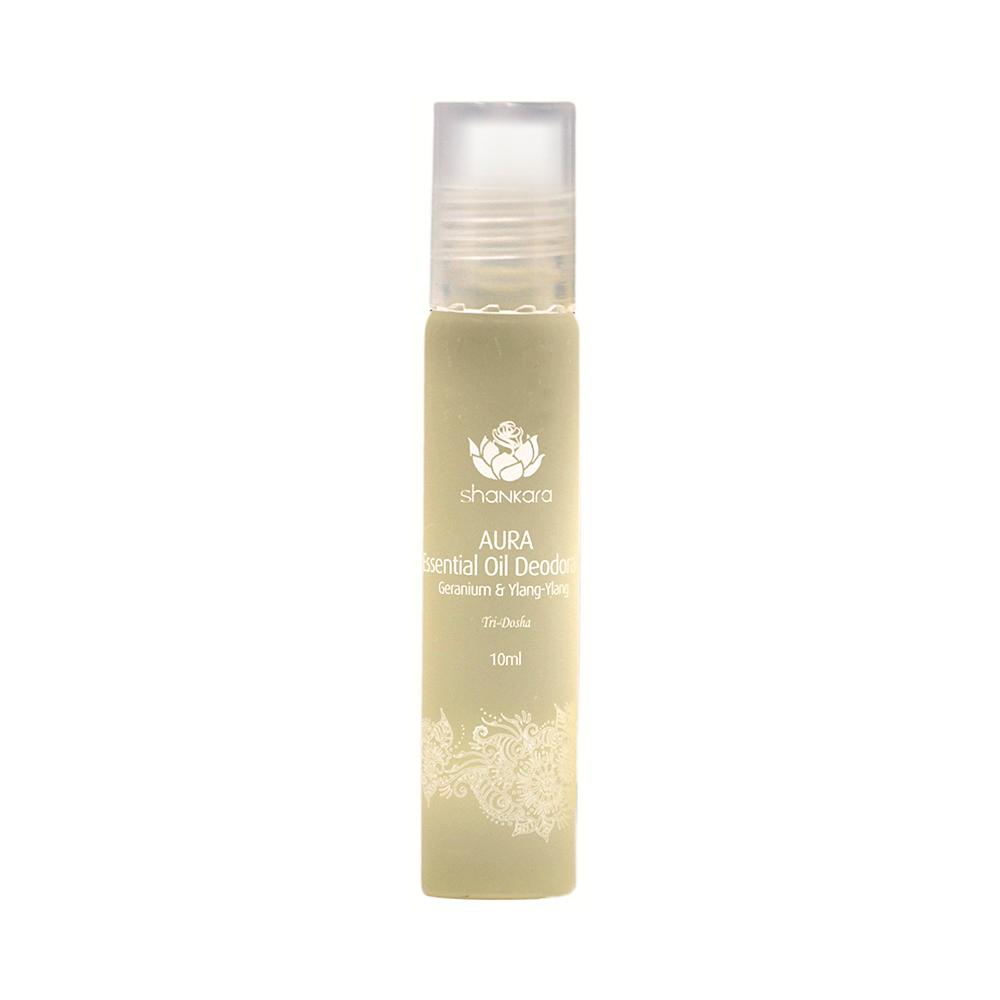 Here is a health conscious and carefully curated fragrance to replace hazardous aluminium laden deodorants-completely natural deodorants designed to naturally neutralize body odors, like Shankara's natural deodorants-Aura Essential Oil Deodorant – Geranium & Ylang Ylang and Lavender & Vetiver. These deodorants can be applied directly to the skin without any worries. They are free from chemicals, aluminum, and alcohol. They are made using pure essential oil made from a blend of essential oils of lavender, Ylang Ylang, Tea Tree, Geranium EO (leaf) and Thyme that work with your body's natural chemistry to neutralize unwanted body odors safely and effectively. Where to find them? Here!