If you are particular about what you allow into your skin and how you take care of it, then it is possible that by this time, you are exhausted from reading and listening about products that 'rejuvenate' your skin (cells). But is that really possible and can there be natural means to regenerate skin cells and scrub off dead ones?
How well do you sleep?
When you move into your REM part of the sleep cycle, the body intelligence gets into the rejuvenation mode, cells in your organs and tissues undergo repair during then, including skin cells. Research states, this rejuvenation boosts collagen production, needed for your skin to appear fresh and young. So moral of this story is-get your beauty sleep every night, come what may, to keep looking eternally young and energized.
(
Also Read; 6 Quick Ayurvedic Tips To Sleep Well)
Give Serums a chance
Look for moisturizing serums rich in Vitamin C and Vitamin E, to give your skin the perfect balance of moisturizing and skin cell regeneration. While vitamin C , an antioxidant, boosts collagen production and balances the collagen present in the skin, Vitamin E supports the penetration of Vitamin C into skin cells. The two combined, keep the internal structure of the skin intact, acting more like natural reinforcements for the skin, which then, on the outside looks younger and timeless.
Shankara's Anti-Aging Serum, for example, comes with the goodness of Vitamin C ester and Vitamin E tocopherol, along with the richness of exotic herbs and actives like microalgae extract; carbohydrate complex; hydrolyzed milk protein and niacinamide; aspen bark extract; hydrolyzed Algin and chlorella vulgaris extract; Vitamin E Tocopherol; vegetable-derived sugars; rose Absolute EO(essential oil); mandarin EO; golden flax extract; echinacea purpurea extract; sandalwood EO; sodium hyaluronate; hibiscus extract; amla extract; ashwagandha extract; neem extract; hydrogenated lecithin; wheat protein extract; gotu Kkola extract; kelp extract; chamae Rose extract; rosemary extract; aloe barbadensis; fulvic minerals; rose extract; and life everlasting extract!
This 100% active serum combines gotu kola and chamae rose to deeply moisturize and rejuvenate your skin. Fine lines and wrinkles fade away while your skin appears brighter and healthier.
A 100% active serum that deeply moisturizes and rejuvenates your skin
Significantly reduces the appearance of fine lines and wrinkles
Supports natural skin renewal
Deeply hydrates and oxygenates
Avocado and honey
You can also make a raw moisturizer at home by blending avocado, honey and fresh cream. The ingredients retain moisture in the skin and help you get rid of wrinkles. Avocados are rich in anti-tan compounds too. Avocados have plenty of antioxidants in the form of Vitamin E and Vitamin C, to fight off free radical gone rogue and reduce premature aging. The skin needs Vitamin C to make collagen which is responsible for maintaining skin tightness.
Walnuts-to eat
Walnuts are full of good fat, that is, they contain just enough of omega 3 and omega 6 fatty acids to reinforce skin rejuvenation. You need walnuts because these fatty acids are not naturally occurring in your body. Omega-3 helps keep up the skin's supple quality and moisturizes it. Walnuts provide about 6% of your zinc requirement for the skin to stay healthy and plump and heal from scars and wounds faster. It is also rich in antioxidants like Vitamin C, Vitamin E and selenium.
(
Also Read: Add these 3 foods to your meals for a radiant skin)
Basil for skin detox
Basil leaves are a storehouse of medicinal and health benefits for skin and your body. Loaded with minerals, phytonutrients, electrolytes and vitamins, basil is known as the queen of herbs in Ayurvedic sciences. Because of the presence of antioxidants, it helps reduce oxidative damage in the skin. Because of its anti-septic, anti-microbial properties, it can cleanse pores, remove dead cells, prevent acne and skin infections, and revive the glow on your skin, along with lightening the skin tone.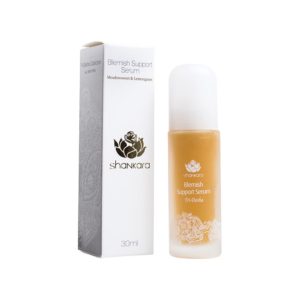 Shankara's Blemish Support Serum How do you use it? You can have it in the form of tea or it is also a key ingredient in natural herbal serums like Shankara's Blemish Support Serum, that is topped, along with basil extract, with the immensely diverse and deepening benefits of about 28 very rare herbs and naturally occurring actives like meadowsweet extract, manuka, neem extract; witch hazel bark extract; witch hazel leaf extract; lemongrass extract; lavender EO; aloe barbadensis; oregano leaf extract, thyme extract, olive leaf extract, rosemary leaf extract, lavender flower extract, golden seal root extract; manjista extract; lemon Tea tree EO; comfrey leaf extract; arjun extract; lemon Balm extract; fulvic minerals; lemongrass EO; and calendula extract.