Drink enough water, moisturize, exfoliate-that's common wisdom when it comes to dealing with dehydrated skin. But how to follow this wisdom in a way that best suits your skin type? Let us show you.
1. 6-8 Glasses but how?
A lot of people believe the best way for the skin to hydrate is by drinking endless glasses of water and running back and forth to the washroom. According to the ancient system of healing and wellness, it is important to boil the water for five minutes with Dosha specific herbs. Those who have Vata skin, can have the water warm, those with Pitta skin should cool it down to room temperature and Kapha skin people can have it slightly above room temperature.
2. Use a cleanser according to your skin type
According to one of the oldest non-invasive systems of healing and wellness, Ayurveda, the type of skin you have will depend on your Dosha constitution. For example, those with Vata skin type tend to have dry and flaky skin, where as those with Pitta skin tend to have warm and sensitive skin. Kapha skin tends to be oily and congested but ages slowly. Wish to find out about your Doshas? Take this quiz to find out!
When cleansing your face, use a non-drying, gentle cleanser. Your skin tends to absorb water from the gentle rinsing action too. Use lukewarm water if your skin is Vata, room temperature or slightly cool (not cold) water if your skin is Pitta, and water slightly above room temperature for Kapha skin.
For dry (or Vata) skin
Vata skin is characterized by overall dryness (no combination pattern here) and will not show signs of redness or be sensitive. When out of balance that skin type will look dull and greyish. Vata skin show signs of aging faster because the skin is thin and dry to start with.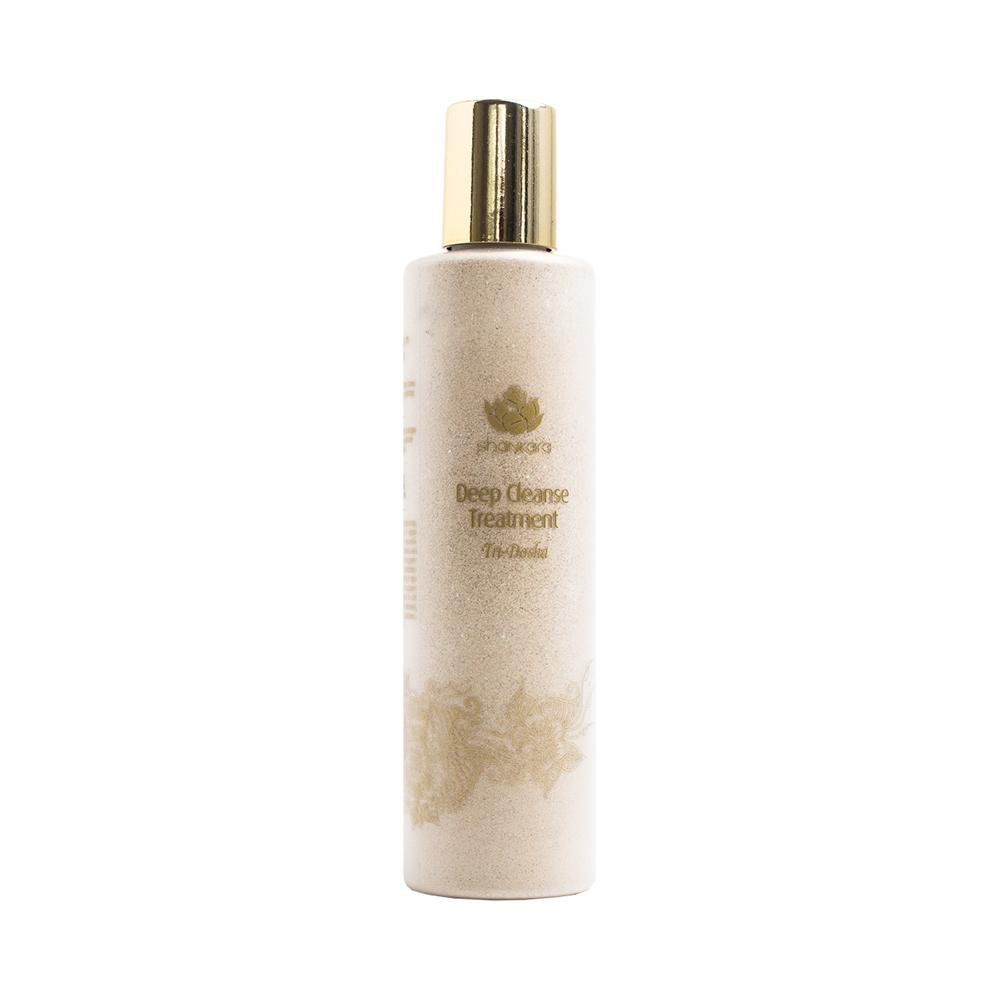 Shankara's Deep Cleanser
If you have a dry skin that tends to get flaky and hard or if you develop a flaky skin during winter, you can try a cream based facial cleanser that protects the essential oil in your skin. An ideal choice of cleanser for such a skin type can be the Deep Cleanser.
For oily (or Kapha) skin
Kapha skin has more oil but again, everywhere equally (not in a combination pattern) and will not show signs of redness or be sensitive. When out of balance they can look pale or puffy. Sluggishness is an issue in that skin type with water retention etc. As you said, they age slowly and that is because their skin is thicker and more oily to start with.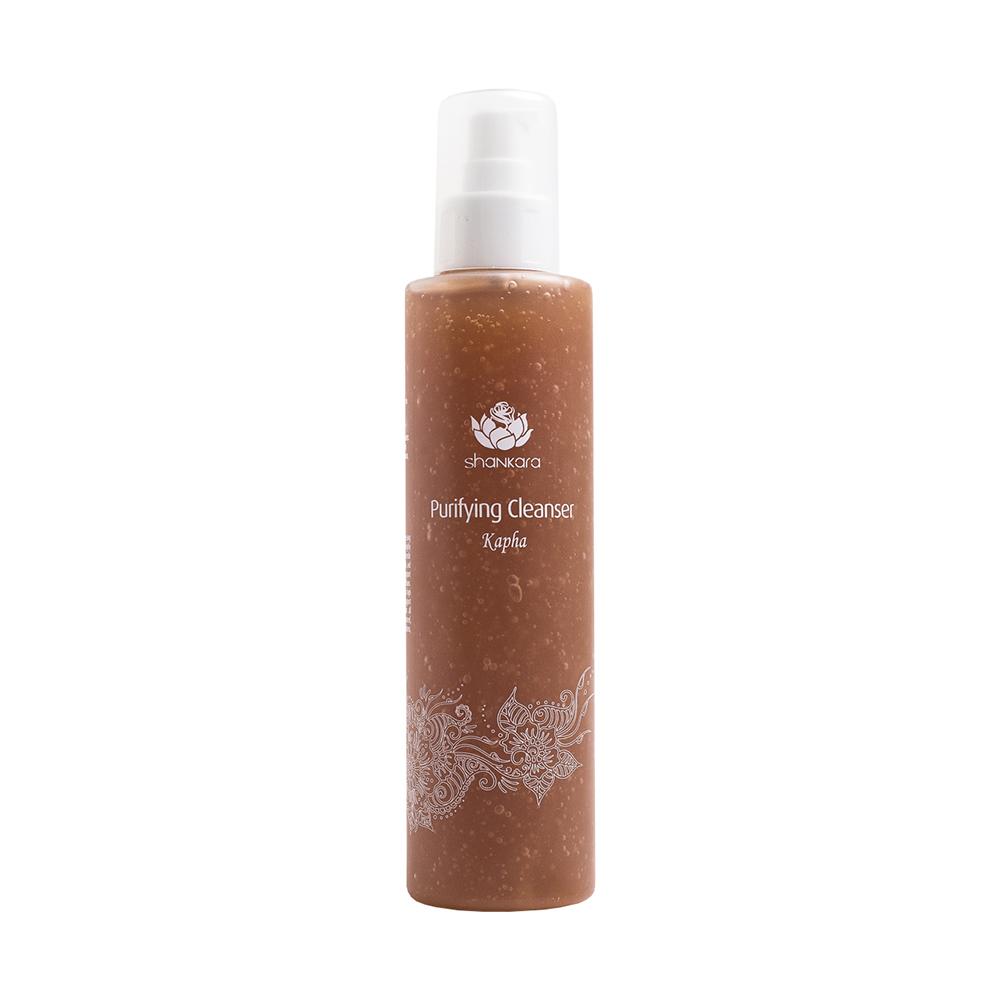 Shankara's Purifying Cleanser
If you tend to have an oily skin, you should preferably use a non-oil based and light facial cleanser or an herbal cleanser that is made from herbs which are Pitta and Kapha pacifying like the Purifying Cleanser.
For combination skin,
For many people, certain areas of the skin, also called the T zone, tend to be oily, like the forehead region or chin or cheeks while other parts of the skin remain dry.  In that case, you must use a cleanser which does not absorb away too much sebum from the skin, which may cause dryness, nor should it be too mild. In other words, you will need a cleanser that balances the lipids and dryness.
For sensitive (or Pitta) skin
Any signs of redness or even just a slight pink undertone to the cheeks means it is a Pitta skin
It holds true for generally all skin types but especially for people with sensitive skin, you should use facial cleansers made from naturally calming herbs and minerals like egyptian rose, aloe vera, sandalwood. The Hydrating Cleanser, Purifying Cleanser or Deep Cleanser from Shankara are well suited for normal to oily to acneic skin.
3. Exfoliate But Gently
Exfoliation removes dead skin cells and gets the skin ready for moisturizer. If you don't remove dead skin cells, your moisturizer won't be able to soak into your skin and do its job. People with oily skin or prone to oily skin need to make sure you exfoliate regularly to avoid accumulation of toxic pollutants, dirt, dead cells. This accumulation along with excess sebum can quickly cause blocked skin pores and eventually acne. Be not harsh on your beautiful skin even if it is slightly oily. Vigorous exfoliation can cause excessive drying which can become another problem to deal with.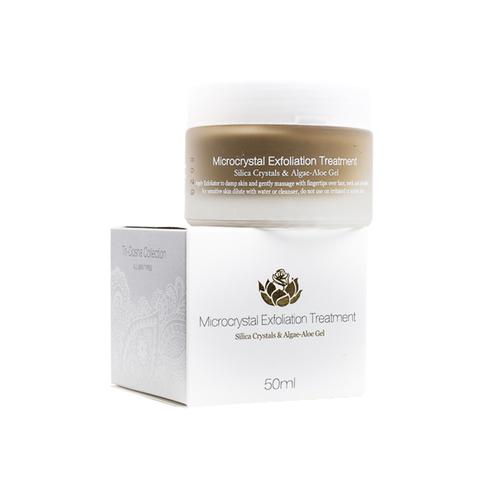 A good pick is Shankara's gentle Microcrystal Exfoliator. Uncover beautiful, radiant skin with this exceptional exfoliation treatment. Ultra-fine silica crystals combine with aloe gel and five algae extracts to gently sluff away dry, dead cells revealing a healthy, youthful glow that is tangibly soft.
4. Moisturize
After you exfoliate, apply a moisturizer. You need moisturizers even if you have an oily skin and this is because too much face washing and overexposure to air conditioned rooms can make your skin dry, which may trigger sebaceous glands to produce even more sebum. A good moisturizer will have the right balance of humectants to draw moisture both from the atmosphere as well as from the depths of the skin.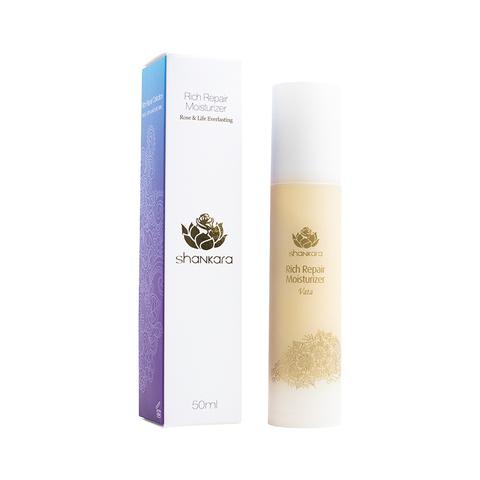 Shankara's Rich repair Moisturizer
Take for example, Shankara's Rich Repair Moisturizer. Science and nature blend beautifully in this lavish, silky moisturizer. Chock full of antioxidants, this cream deeply nourishes and moisturizes dry, flaky skin with noticeable results. It comes with the astonishing goodness of exotic herbs and plants like Aspen bark extract; sunflower seed extract; almond oil; avocado oil; sesame oil; foraha oil; kokam butter; mango seed butter; hempseed oil; jojoba oil; Vitamin E Tocopherol; microalgae extract; rose absolute EO; evening primrose oil; borage oil; arjun extract; extract of helio carrot; shatavari extract; extracts of Calendula, haritaki, wheat germ, ginger, dashmoola, bala, kola and rice protein; Life Everlasting extract; Haritaki extract; Wheat germ extract; Ginger extract; Rice protein extract;
For the body, the ayurvedic full-body oil massage (abhyanga) is excellent for rehydrating the skin. When you let the oil sit for a few minutes after the massage, it percolates into the body tissues, lubricating the internal organs, muscles and joints apart from toning up the skin, nourishing and moisturizing it. You can thank Abhyanga for keeping your skin soft and supple as a baby's even in the harshest of weathers. The best way to fight the scaly dry skin problems to take refuge in the bliss of Ayurvedic oil massages or Abhyanga, suited to your Dosha constitution. Oil is widely recommended as a healing, detoxifying, hydrating and re-balancing agent in Ayurveda. Ayurvedic massage as part of the Panchakarma treatment helps the oil penetrate the skin, presses into tissues and releases toxins like lactic acid and trapped oils and chemicals that may have seeped in.